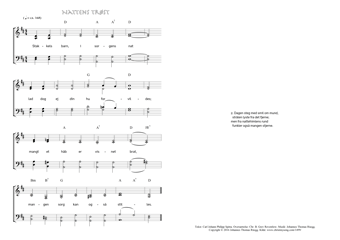 Christ My Song - 1499
Stakkels barn, i sorgens nat - Nattens trøst
(Carl Johann Philipp Spitta/Christian Benedictus Reventlow/
Johannes Thomas Rüegg)
Nattens trøst.
1. Stakkels barn, i sorgens nat
lad dog ej din hu forvildes;
mangt et håb er visnet brat,
mangen sorg kan også stilles. PDF - Midi
2. Dagen steg med smil om mund,
strålen lyste fra det fjerne;
men fra nattehimlens rund
funkler også mangen stjerne.
Christian Benedictus Reventlow, Spitta's Psalter og Harpe I, 1873, 101.
Translated from the German Klage nicht, betrübtes Kind - Trost der Nacht
of Carl Johann Philipp Spitta.