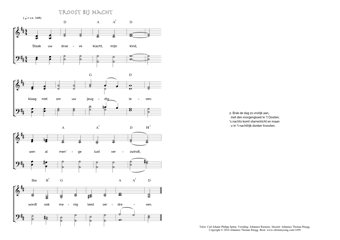 Christ My Song - 1499
Staak uw droeve klacht, mijn kind - Troost bij nacht
(Carl Johann Philipp Spitta/Johannes Riemens/
Johannes Thomas Rüegg)
Troost bij nacht.
1. Staak uw droeve klacht, mijn kind,
klaag niet om uw jeugdig leven:
wen al men'ge lust verzwindt,
wordt ook menig leed verdreven. PDF - Midi
2. Brak de dag zo vrolijk aan,
met den morgengloed in 't Oosten;
's nachts komt starrenlicht en maan
u in 't nachtlijk donker troosten.
Johannes Riemens, Luit en Harp, 148.
Translated from the German Klage nicht, betrübtes Kind - Trost der Nacht
of Carl Johann Philipp Spitta.