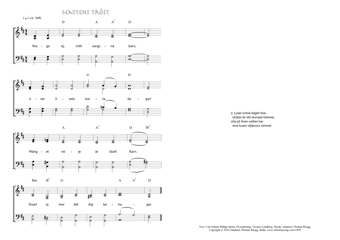 Christ My Song - 1499
Klaga ej, mitt sorgsna barn - Nattens tröst
(Carl Johann Philipp Spitta/Torsten Lundberg/
Johannes Thomas Rüegg)
Nattens tröst.
1. Klaga ej, mitt sorgsna barn,
över livets korta dagar!
Månget nöje är blott flarn.
Snart ej mer det dig behagar. PDF - Midi
2. Lyser också dagen klar,
strålar än din levnads himmel,
sörj ej! Även natten har
sina tusen stjärnors vimmel.
Torsten Lundberg, Psaltare och Harpa - Andliga Harposånger af Filip Spitta II, 1907, 4-5.
Translated from the German Klage nicht, betrübtes Kind - Trost der Nacht
of Carl Johann Philipp Spitta.