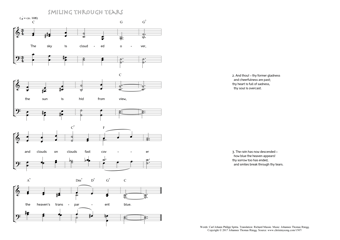 Christ My Song - 1507
The sky is clouded over - Smiling through tears
(Carl Johann Philipp Spitta/Richard Massie/
Johannes Thomas Rüegg)
Smiling through tears.
1. The sky is clouded over,
the sun is hid from view,
and clouds on clouds fast cover
the heaven's transparent blue. PDF - Midi
2. And thou! – thy former gladness
and cheerfulness are past;
thy heart is full of sadness,
thy soul is overcast.
3. The rain has now descended –
how blue the heaven appears!
thy sorrow too has ended,
and smiles break through thy tears.
Richard Massie, Lyra Domestica II, 1864, 48.
Translated from the German Die Wolken ziehn vorüber - Erheiterung durch Tränen
of Carl Johann Philipp Spitta.