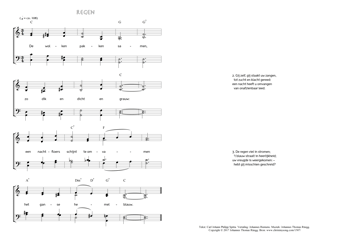 Christ My Song - 1507
De wolken pakken samen - Regen
(Carl Johann Philipp Spitta/Johannes Riemens/
Johannes Thomas Rüegg)
Regen.
1. De wolken pakken samen,
zo dik en dicht en grauw:
een nachtfloers schijnt te omvamen
het ganse hemelblauw. PDF - Midi
2. Gij zelf, gij staakt uw zangen,
tot zucht en klacht gereed:
een nacht heeft u omvangen
van onafzienbaar leed.
3. De regen viel in stromen;
't blauw straalt in heerlijkheid;
uw vreugde is weergekomen: –
hebt gij misschien geschreid?
Johannes Riemens, Luit en Harp, 147.
Translated from the German Die Wolken ziehn vorüber - Erheiterung durch Tränen
of Carl Johann Philipp Spitta.