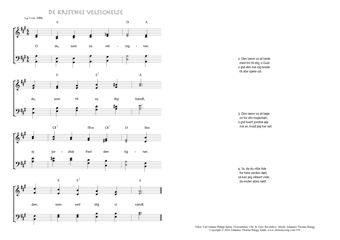 Christ My Song - 159
O du, som os velsigner - De kristnes velsignelse
(Carl Johann Philipp Spitta/Christian Benedictus Reventlow/
Johannes Thomas Rüegg)
De kristnes velsignelse.
1. O du, som os velsigner,
du, som til os dig bandt,
ej jordisk fred den ligner,
den, som ved dig vi vandt. PDF - Midi
2. Den lærer os at bede
med tro til dig, o Gud:
o gid den må sig brede
til alle sjæle ud.
3. Den lærer os at bøje
os for din majestæt;
o gid hvert jordisk øje
må se, hvad jeg har set.
4. Ja, da du ville lide
for hele verden død,
så kan jeg sikkert vide:
du ender alles nød!
Christian Benedictus Reventlow, Spitta's Psalter og Harpe II, 1873, 92.
Translated from the German O du, der uns begegnet - Der Segen der Gesegneten
of Carl Johann Philipp Spitta.