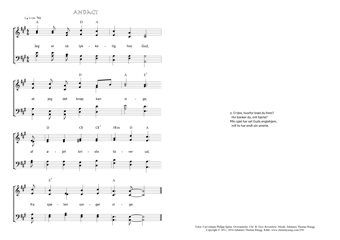 Christ My Song - 250
Jeg er så lykkelig hos Gud - Andagt
(Carl Johann Philipp Spitta/Christian Benedictus Reventlow/ Johannes Thomas Rüegg)
Andagt.
1. Jeg er så lykkelig hos Gud,
at jeg det knap kan sige,
af øjet briste tårer ud,
fra sjælen sorger vige. PDF - Midi
2. O tåre, hvorfor brød du frem?
Hvi banker du, mit hjerte?
Min sjæl har set Guds englehjem,
mit liv har endt sin smerte.
Christian Benedictus Reventlow, Spitta's Psalter og Harpe I, 1873, 109.
Translated from the German Mir ist so wohl in Gottes Haus - Andacht
of Carl Johann Philipp Spitta.