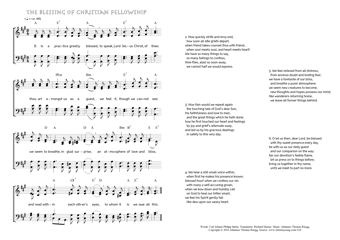 Christ My Song - 124
It is a practice greatly blessed - The blessing of Christian fellowship (Carl Johann Philipp Spitta/Richard Massie/
Johannes Thomas Rüegg)
The blessing of Christian fellowship.
1. It is a practice greatly blessed,
to speak, Lord Jesus Christ, of thee;
thou art amongst us as a guest,
we feel it, though we cannot see;
we seem to breathe, in glad surprise,
an atmosphere of love and bliss,
and read within each other's eyes,
to whom it is we owe all this. PDF - Midi
2 .How quickly strife and envy end,
how soon all idle griefs depart,
when friend takes counsel thus with friend,
when soul meets soul, and heart meets heart!
We have so many things to say,
so many failings to confess,
time flies, alas! so soon away,
we cannot half we would express.
3. How fain would we repeat again
the touching tale of God's dear Son,
his faithfulness and love to men,
and the great things which he hath done;
how he first touched our heart and feelings
by joy and grief's alternate sway,
and led us by his gracious dealings
in safety to this very day.
4. We hear a still small voice within,
when first he makes his presence known;
blessed hour! when we confess our sin
with many a self-accusing groan;
when we bow down and humbly call
on God to heal our bitter smart,
we feel his Spirit gently fall
like dew upon our weary heart.
5. We feel relieved from all distress,
from anxious doubt and boding fear;
we have a foretaste of our bliss,
and breathe a purer atmosphere;
we seem new creatures to become,
new thoughts and hopes possess our mind;
like wanderers returning home,
we leave all former things behind.
6. O let us then, dear Lord, be blessed
with thy sweet presence every day,
be with us as our daily guest
and our companion on the way;
fan our devotion's feeble flame,
let us press on to things before,
bring us together in thy name,
until we meet to part no more.
Richard Massie, Lyra Domestica I, 1863, 89-90.
Translated from the German O welche fromme, schöne Sitte - Segen christlicher Gemeinschaft
of Carl Johann Philipp Spitta.