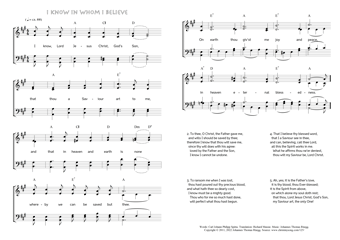 Christ My Song - 125
I know, Lord Jesus Christ, God's Son - I know in whom I believe (Carl Johann Philipp Spitta/Richard Massie/
Johannes Thomas Rüegg)
I know in whom I believe.
1. I know, Lord Jesus Christ, God's Son,
that thou a Saviour art to me,
and that in heaven and earth is none
whereby we can be saved but thee.
On earth thou giv'st me joy and peace,
in heaven eternal blessedness. PDF - Midi
2. To thee, O Christ, the Father gave me,
and wills I should be saved by thee;
therefore I know that thou wilt save me,
since thy will does with his agree:
loved by the Father and the Son,
I know I cannot be undone.
3. To ransom me when I was lost,
thou hast poured out thy precious blood,
and what hath thee so dearly cost,
I know must be a mighty good.
Thou who for me so much hast done,
wilt perfect what thou hast begun.
4. That I believe thy blessed word,
that I a Saviour see in thee,
and can, believing, call thee Lord,
all this the Spirit works in me.
What he affirms thou ne'er deniest
thou wilt my Saviour be, Lord Christ.
5. Ah, yes; it is the Father's love,
it is thy blood, thou Ever-blessed;
it is the Spirit from above,
on which alone my soul doth rest;
that thou, Lord Jesus Christ, God's Son,
my Saviour art, the only One!
Richard Massie, Lyra Domestica II, 1863, 12-13.
Translated from the German Ich weiß, ich werde selig werden - Ich weiß, an wen ich glaube, und bin gewiss
of Carl Johann Philipp Spitta.