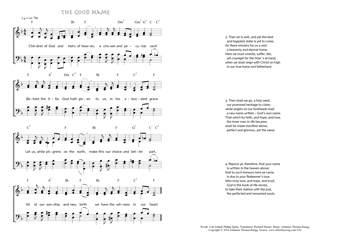 Christ My Song - 126
Children of God and heirs of heaven - The good name
(Carl Johann Philipp Spitta/Richard Massie/
Johannes Thomas Rüegg)
The good name.
1. Children of God and heirs of heaven,
a chosen and peculiar race!
Behold the title God hath given
to us, in his abundant grace.
Let us, while pilgrims on the earth,
make this our choice and better part,
till of our sonship and new birth
we have the witness in our heart. PDF - Midi
2. Then all is well, and yet the best
and happiest state is yet to come;
for there remains for us a rest,
a heavenly and eternal home.
Here we must wrestle, suffer, die;
yet courage! for the time 's at hand,
when we shall reign with Christ on high
in our true home and fatherland.
3. Then shall we go, a holy seed,
our promised heritage to claim;
while angels on our foreheads read
a new name written – God's own name.
That which by faith, and hope, and love,
the inner man in life became,
shall be made manifest above,
perfect and glorious, yet the same.
4. Rejoice ye, therefore, that your name
is written in the heaven above;
that to such honours here ye came,
is due to your Redeemer's love.
Who truly love, and hope, and trust,
God in the book of life enrols,
to take their station with the just,
the perfected and ransomed souls.
Richard Massie, Lyra Domestica II, 1864, 25-26.
Translated from the German Hier Gottes Kinder und dort Erben - Der gute Name
of Carl Johann Philipp Spitta.