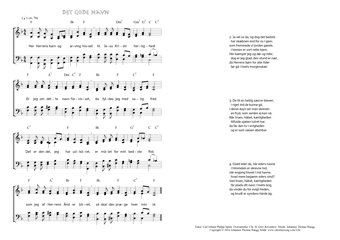 Christ My Song - 126
Her Herrens barn og arving hisset - Det gode navn
(Carl Johann Philipp Spitta/Christian Benedictus Reventlow/
Johannes Thomas Rüegg)
Det gode navn.
1. Her Herrens barn og arving hisset
til Jesu Kristi herlighed!
Er jeg om dette navn forvisset,
da fyldes jeg med salig fred.
Det er den del, jeg har udkåret,
er målet for min bedste flid;
som jeg af Herrens Ånd er båret,
så skal den præge hver min id. PDF - Midi
2. Ja vel os da, og dog det bedste
har skæbnen end for os i gem;
som fremmede vi jorden gæste,
i himlen er vort rette hjem.
Her kæmper jeg og dør og lider,
dog er jeg glad; den stund er nær,
da Herrens børn for alle tider
tør gå i livets morgenskær.
3. De til en hellig sæd er bleven,
i riget ind de kunne gå,
i deres åsyn ser man skreven
en fryd, som verden ej kan nå.
Når troen, håbet, kærligheden
tilfulde sjælen lutret har,
da får den liv i evigheden
og er som væsen åbenbar.
4. Glæd eder da, når eders navne
i himmelen er skrevne ind,
når engang hisset i må havne,
hvad mere begærer eders sind?
Ved troen, håbet, kærligheden
får plads dit navn i livets bog,
da vinder du for evigt freden,
og brudt er syndens hårde åg.
Christian Benedictus Reventlow, Spitta's Psalter og Harpe II, 1873, 28-29.
Translated from the German Hier Gottes Kinder und dort Erben - Der gute Name
of Carl Johann Philipp Spitta.