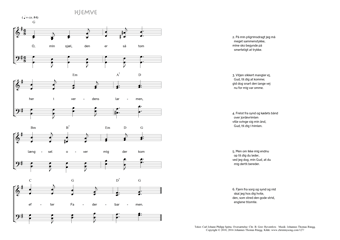 Christ My Song - 127
O, min sjæl, den er så tom - Hjemve (Carl Johann Philipp Spitta/
Christian Benedictus Reventlow/Johannes Thomas Rüegg)
Hjemve.
1. O, min sjæl, den er så tom
her i verdens larmen,
længsel over mig der kom
efter Faderbarmen. PDF - Midi
2. På min pilgrimsdragt jeg må
meget sammenstykke,
mine sko begynde på
smerteligt at trykke.
3. Viljen sikkert mangler ej,
Gud, til dig at komme;
gid dog snart den lange vej
nu for mig var omme.
4. Frelst fra synd og kødets bånd
over jordevrimlen
vilde svinge sig min ånd,
Gud, til dig i himlen.
5. Men om ikke mig endnu
op til dig du leder,
ved jeg dog, min Gud, at du
mig dertil bereder.
6. Fjern fra sorg og synd og nid
skal jeg hos dig hvile,
den, som stred den gode strid,
englene tilsmile.
Christian Benedictus Reventlow, Spitta's Psalter og Harpe I, 1873, 149-150.
Translated from the German Ach, uns wird das Herz so leer - Heimweh
of Carl Johann Philipp Spitta.