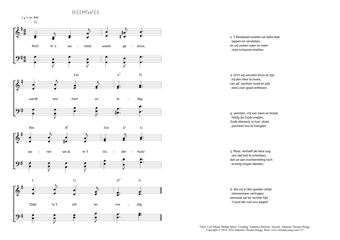 Christ My Song - 127
Ach! in 's werelds woest gedruis - Heimwee
(Carl Johann Philipp Spitta/Albertine Kehrer/
Johannes Thomas Rüegg)
Heimwee.
1. Ach! in 's werelds woest gedruis
wordt ons hart zo ledig;
waren we al in 't Vaderhuis!
Dáár is 't stil en vredig. PDF - Midi
2. 't Reiskleed moeten we iedre keer
lappen en verstellen,
en wij voelen meer en meer
onze schoenen knellen.
3. Och! wij wensten thuis te zijn,
bij den Heer te leven,
van all' aardsen nood en pijn
eens voor goed ontheven;
4. wensten, vrij van vlees en bloed,
heilig als Gods englen,
Gode dienend, in hun' stoet
juichend ons te menglen.
5. Maar, vertoeft de Here nog
ons dat heil te schenken,
dat we aan voorbereiding toch
ernstig mogen denken;
6. dat wij in den goeden strijd
nimmermeer vertragen:
eenmaal zal ter rechter tijd
't land der rust ons dagen!
Albertine Kehrer, in: Johannes Riemens, Luit en Harp, 218-219.
Translated from the German Ach, uns wird das Herz so leer - Heimweh
of Carl Johann Philipp Spitta.