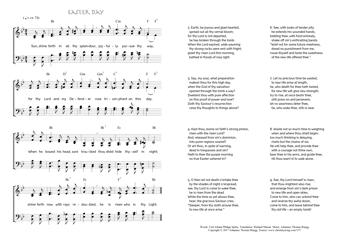 Christ My Song - 137
Sun, shine forth in all thy splendour - Easter day (Carl Johann Philipp Spitta/Richard Massie/Johannes Thomas Rüegg)
Easter day.
1. Sun, shine forth in all thy splendour,
joyfully pursue thy way,
for thy Lord and my Defender
rose triumphant on this day.
When he bowed his head, sore troubled
thou didst hide thyself in night;
shine forth now with rays redoubled,
he is risen who is thy Light. PDF - Midi
2. Earth, be joyous and glad-hearted,
spread out all thy vernal bloom;
for thy Lord is not departed,
he has broken through the tomb.
When the Lord expired, wide-yawning
thy strong rocks were rent with fright;
greet thy risen Lord this morning,
bathed in floods of rosy light
3. Say, my soul, what preparation
makest thou for this high day,
when the God of thy salvation
opened through the tomb a way?
Dwellest thou with pure affection
on this proof of power and love?
Doth thy Saviour's resurrection
raise thy thoughts to things above?
4. Hast thou, borne on faith's strong pinion,
risen with the risen Lord?
And, released from sin's dominion,
into purer regions soared?
Or art thou, in spite of warning,
dead in trespasses and sin?
Hath to thee the purple morning
no true Easter ushered in?
5. O then let not death o'ertake thee
by the shades of night o'erspread;
see, thy Lord is come to wake thee,
he is risen from the dead.
While the time as yet allows thee,
hear; the gracious Saviour cries,
"Sleeper, from thy sloth arouse thee,
to new life at once arise."
6. See, with looks of tender pity
he extends his wounded hands,
bidding thee, with fond entreaty,
shake off sin's enthralling bands:
"Wait not for some future meetness,
dread no punishment from me,
rouse thyself and taste the sweetness
of the new life offered thee."
7. Let no precious time be wasted,
to new life arise at length,
he, who death for thee hath tasted,
for new life will give new strength;
try to rise, at once bestir thee,
still press on and persevere,
let no weariness deter thee,
he, who woke thee, still is near.
8. Waste not so much time in weighing
when and where thou shalt begin;
too much thinking is delaying,
rivets but the chains of sin.
He will help thee, and provide thee
with a courage not thine own,
bear thee in his arms, and guide thee,
till thou learn'st to walk alone.
9. See, thy Lord himself is risen,
that thou mightest also rise,
and emerge from sin's dark prison
to new life and open skies.
Come to him, who can unbind thee
and reverse thy awful doom,
come to him, and leave behind thee
thy old life – an empty tomb!
Richard Massie, Lyra Domestica I, 1863, 24-26.
Translated from the German Wandle leuchtender und schöner - Osterfeier
of Carl Johann Philipp Spitta.