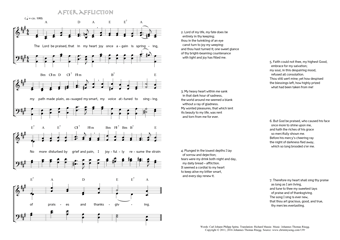 Christ My Song - 139
The Lord be praised, that in my heart - After affliction
(Carl Johann Philipp Spitta/Richard Massie/
Johannes Thomas Rüegg)
After affliction.
Psalm 30,5.
1. The Lord be praised, that in my heart
joy once again is springing,
my path made plain, assuaged my smart,
my voice attuned to singing.
No more disturbed by grief and pain,
I joyfully resume the strain
of praises and thanksgiving. PDF - Midi
2. Lord of my life, my fate does lie
entirely in thy keeping;
thou in the twinkling of an eye
canst turn to joy my weeping:
and thou hast turned it; one sweet glance
of thy bright-beaming countenance
with light and joy has filled me.
3. My heavy heart within me sank
in that dark hour of sadness,
the world around me seemed a blank
without a ray of gladness.
My wonted pleasures, that which lent
its beauty to my life, was rent
and torn from me for ever.
4. Plunged in the lowest depths I lay
of sorrow and dejection;
tears were my drink both night and day,
my daily bread – affliction.
It seemed a cordial to my heart
to keep alive my bitter smart,
and every day renew it.
5. Faith could not thee, my highest Good,
embrace for my salvation;
my soul, in this despairing mood,
refused all consolation.
Thou still wert mine; yet how despised
the blessings left, how highly prized
what had been taken from me!
6. But God be praised, who caused his face
once more to shine upon me,
and hath the riches of his grace
so mercifully shown me.
Before his mercy's cheering ray
the night of darkness fled away,
which so long brooded o'er me.
7. Therefore my heart shall sing thy praise
as long as I am living,
and tune to thee my sweetest lays
of praise and of thanksgiving.
The song I sing is ever new,
that thou art gracious, good, and true,
thy mercies everlasting.
Richard Massie, Lyra Domestica II, 1864, 33-34.
Translated from the German Gottlob, das Licht geht wieder auf - Nach der Trübsal
of Carl Johann Philipp Spitta.