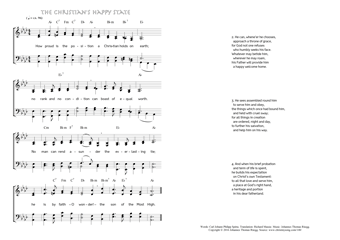 Christ My Song - 140
How proud is the position - The Christian's happy state
(Carl Johann Philipp Spitta/Richard Massie/
Johannes Thomas Rüegg)
The Christian's happy state.
1. How proud is the position
a Christian holds on earth;
no rank and no condition
can boast of equal worth.
No man can rend asunder
the everlasting tie;
he is by faith – O wonder! –
the son of the Most High. PDF - Midi
2. He can, whene'er he chooses,
approach a throne of grace,
for God not one refuses
who humbly seeks his face.
Whatever may betide him,
wherever he may roam,
his Father will provide him
a happy welcome home.
3. He sees assembled round him
to serve him and obey,
the things which once had bound him,
and held with cruel sway;
for all things in creation
are ordered, night and day,
to further his salvation,
and help him on his way.
4. And when his brief probation
and term of life is spent,
he builds his expectation
on Christ's own Testament:
to all that love and serve him,
a place at God's right hand,
a heritage and portion
in his dear fatherland.
Richard Massie, Lyra Domestica II, 1864, 72-73.
Translated from the German Ein Wohlstand ohnegleichen - Des Christen Wohlstand
of Carl Johann Philipp Spitta.