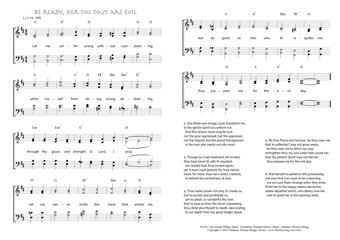 Christ My Song - 1465
Let me suffer wrong without complaining - Be ready, for the days are evil (Carl Johann Philipp Spitta/Richard Massie/
Johannes Thomas Rüegg)
Be ready, for the days are evil.
1. Let me suffer wrong without complaining,
while myself from doing wrong abstaining,
through thy grace and strength, O Lord, I pray;
let me never smite the hand that smites me,
but do good to him who ill requites me:
thus prepare me for the evil day. PDF - Midi
2. Into thine own image, Lord, transform me,
to thy gentle Spirit so conform me,
that this lesson never may be lost:
not the poor oppressed, but the oppressor,
not the injured, but the proud transgressor,
is the man who needs our pity most.
3. Though by cruel treatment oft incited,
thou hast never ill with ill requited,
nor reviled hast thou reviled again;
yet it must have grieved thy holy nature,
more, far more, than me a sinful creature,
to behold the wickedness of men.
4. Thou hadst power not only to create us,
but to punish and annihilate us;
yet so great, so wonderful thy love,
that to save us from the doom impending,
thou didst give thyself to death, descending
to our depth from thy great height above.
5. My true Peace and Saviour, be thou near me,
that in suffering I may not grow weary,
be thou near me to direct my way;
strengthen thou my soul when foes assail her,
that thy patient Spirit may not fail her:
thus prepare me for the evil day;
6. that herself in patience still possessing
she may find e'en woes to be a blessing,
nor account them strange when they arise.
Point her to the happy realms above her,
where departed saints, who dearly love her,
wait to greet her in the opening skies.
Richard Massie, Lyra Domestica I, 1863, 111-112.
Translated from the German Herr, das Böse willig zu erleiden - Schicket euch in die Zeit
of Carl Johann Philipp Spitta.