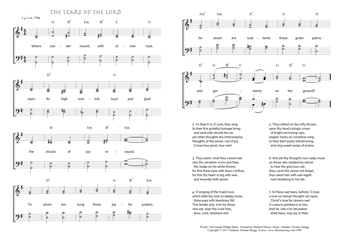 Christ My Song - 1490
Where yonder mount, with olives clad - The tears of the Lord
(Carl Johann Philipp Spitta/Richard Massie/
Johannes Thomas Rüegg)
The tears of the Lord.
1. Where yonder mount, with olives clad,
rears its high summit, loud and glad
the shouts of joy resound.
To whom are sung those joyful psalms,
for whom are scattered those green palms
and garments on the ground? PDF - Midi
2. To thee it is, O Lord, they sing,
to thee this grateful homage bring,
and rend with shouts the air;
yet other thoughts thy mind employ,
thoughts of the sinner, not of joy:
O love how great, how rare!
3. Thou seest, what they cannot see
who thy salvation scorn and thee,
the Judge on his white throne;
for this thine eyes with tears o'erflow,
for this thy heart is big with woe,
and inwardly doth groan.
4. O longing of the truest love,
which doth thy soul so deeply move,
thine eyes with teardrops fill!
This tender pity, e'en for those
who are, alas! thy cruel foes,
thou, Lord, retainest still.
5. Thou sittest on thy lofty throne,
upon thy head a kingly crown
of bright encircling rays;
angelic hosts on countless wing
to thee their joyful tribute bring,
and sing sweet songs of praise.
6. And yet thy thoughts now sadly muse
on those who stubbornly refuse
to hear thy gracious call;
thou canst the sinner not forget,
thou seest him with sad regret
rush headlong to his fall.
7. In these sad tears, behold, O man,
a love no human thought can span,
Christ's love for sinners see!
O come in penitence to him,
that he, who o'er Jerusalem
shed tears, may joy in thee.
Richard Massie, Lyra Domestica II, 1864, 65-66.
Translated from the German Vom Ölberg wogt es nieder - Die Tränen des Herrn
of Carl Johann Philipp Spitta.