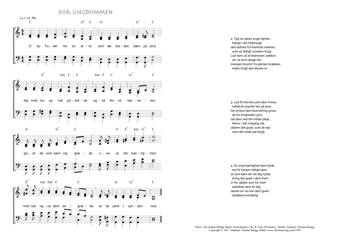 Christ My Song - 1494
O du Fader for os alle - For ungdommen
(Carl Johann Philipp Spitta/Christian Benedictus Reventlow/
Johannes Thomas Rüegg)
For ungdommen.
1. O du Fader for os alle,
som tør kaldes børn på jord,
dig med lov og tak påkalde
også disse børnekor;
giv, at de som børn sig glæde
over al din kærlighed;
men lad også dem begræde,
at de sank i synden ned. PDF - Midi
2. Tag du deres unge hjerter
tidligt i din fadertugt;
den befries fra fremtids smerter,
som så tidligt syndens frugt.
Lad dem ud af drømmen vækkes
om at leve længe her,
mangen blomst fra grenen brækkes,
inden frugt den bleven er.
3. Lad til Herrens pris dem trives,
retfærds planter her på jord,
her ej blot dem blomstring gives,
de for evigheden gror;
lad dem ved din milde pleje,
Herre, i dit vinbjerg stå,
skærm det gode, som de eje;
men det onde lad forgå.
4. Du med kærlighed dem fylde,
led til frelsen tidligt dem;
at som børn de må dig hylde,
bring det gode i dem frem.
Vi for døden som for livet
anbefale dem til dig;
denne arv du har dem givet:
salighed evindelig.
Christian Benedictus Reventlow, Spitta's Psalter og Harpe II, 1873, 65-66.
Translated from the German O du Vater über alles - Für die Jugend of Carl Johann Philipp Spitta.