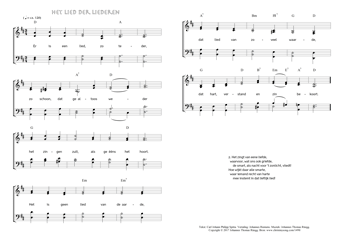 Christ My Song - 1498
Er is een lied, zo teder - Het lied der liederen
(Carl Johann Philipp Spitta/Johannes Riemens/
Johannes Thomas Rüegg)
Het lied der liederen.
1. Er is een lied, zo teder,
zo schoon, dat ge altoos weder
het zingen zult, als ge ééns het hoort.
Het is geen lied van de aarde,
dat lied van zoveel waarde,
dat hart, verstand en zin bekoort. PDF - Midi
2. Het zingt van eene liefde,
waarvoor, wat ons ook griefde,
de smart, als nacht voor 't zonlicht, vliedt!
Hoe wijkt daar alle smarte,
waar iemand recht van harte
mee instemt in dat lieflijk lied!
Johannes Riemens, Luit en Harp, 95.
Translated from the German Es gibt ein Lied der Lieder - Das Lied der Lieder
of Carl Johann Philipp Spitta.