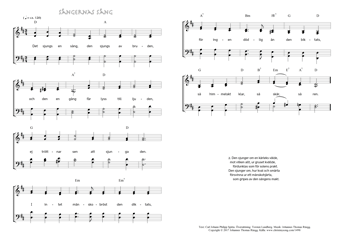 Christ My Song - 1498
Det sjungs en sång, den sjungs av bruden - Sångernas sång
(Carl Johann Philipp Spitta/Torsten Lundberg/
Johannes Thomas Rüegg)
Sångernas sång.
1. Det sjungs en sång, den sjungs av bruden,
och den en gång får lyss till ljuden,
ej tröttnar sen att sjunga den.
I intet mänskobröst den diktats,
för ingen dödlig än den biktats,
så himmelskt klar, så skär, så ren. PDF - Midi
2. Den sjunger om en kärleks välde,
mot vilken allt, ur gruset kvällde,
fördunklas som för solens prakt.
Den sjunger om, hur kval och smärta
försvinna ur ett mänskohjärta,
som gripes av den sångens makt.
Torsten Lundberg, Psaltare och Harpa - Andliga Harposånger af Filip Spitta III, 1909, 81-82.
Translated from the German Es gibt ein Lied der Lieder - Das Lied der Lieder
of Carl Johann Philipp Spitta.