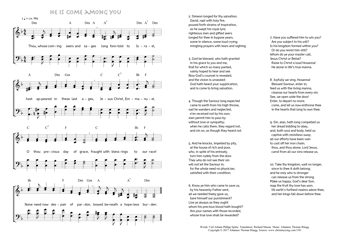 Christ My Song - 150
Thou, whose coming seers and sages - He is come among you
(Carl Johann Philipp Spitta/Richard Massie/
Johannes Thomas Rüegg)
He is come among you.
1. Thou, whose coming seers and sages
long foretold to Israel,
hast appeared in these last ages,
Jesus Christ, Emmanuel.
O thou precious day of grace,
fraught with blessings to our race!
None need now despair of pardon,
bowed beneath a hopeless burden. PDF - Midi
2. Simeon longed for thy salvation;
David, rapt with holy fire,
poured forth strains of inspiration,
as he swept his royal lyre;
righteous men and gifted seers
longed for thee in bygone years,
some in silence, some loud crying,
mingling prayers with tears and sighing.
3. God be blessed, who hath granted
in his grace to you and me,
that for which so many panted,
vainly hoped to hear and see.
Now God's counsel is revealed,
and the vision is unsealed:
God hath heard your supplication,
and is come to bring salvation.
4. Though the Saviour long expected
came to earth from his high throne,
sad he wanders and neglected,
e'en received not by his own;
men permit him to pass by
without love or sympathy;
when he calls them, they regard not,
and sin on, as though they heard not.
5. And he knocks, impelled by pity,
at the house of rich and poor,
who, in spite of his entreaty,
turn him rudely from the door.
They who do not see their sin
will not let the Saviour in;
for the whole need no physician,
satisfied with their condition.
6. Know ye him who came to save us,
by his heavenly Father sent,
all we needed freely gave us,
bare himself our punishment?
Live ye always as they ought
whom his precious blood hath bought?
Are your names with those recorded,
whose true love shall be rewarded?
7. Have you suffered him to win you?
Are you subject to his will?
Is his kingdom formed within you?
Or do you resist him still?
Whom do ye your master call,
Jesus Christ or Belial?
Raise to Christ a loud Hosanna!
He alone is life's true manna.
8. Joyfully we sing, Hosanna!
Blessed Saviour, enter in;
feed us with the living manna,
cleanse our hearts from every sin.
See, we open wide the door!
Enter, to depart no more;
come, and let us now enthrone thee
in the hearts that long to own thee.
9. Sin, alas, hath long compelled us
her dread bidding to obey,
and, both soul and body, held us
captive with resistless sway;
all our efforts have been vain
to cast off her iron chain;
thou, and thou alone, Lord Jesus,
canst from all our sins release us.
10. Take thy kingdom, wait no longer,
since to thee it doth belong;
and he only who is stronger
can release us from the strong.
Make us happy, God's dear Son,
reap the fruit thy love has won;
till earth's furthest realms adore thee,
and her kings fall down before thee.
Richard Massie, Lyra Domestica II, 1864, 7-9.
Translated from the German Du, des Zukunft einst erflehten - Er ist mitten unter euch
of Carl Johann Philipp Spitta.