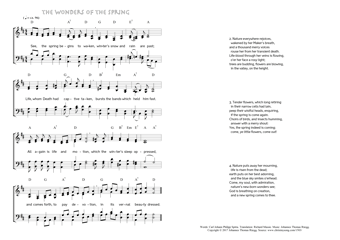 Christ My Song - 1503
See, the spring begins to waken - The wonders of the spring
(Carl Johann Philipp Spitta/Richard Massie/
Johannes Thomas Rüegg)
The wonders of the spring.
1. See, the spring begins to waken,
winter's snow and rain are past;
Life, whom Death had captive taken,
bursts the bands which held him fast.
All again is life and motion,
which the winter's sleep oppressed,
and comes forth, to pay devotion,
in its vernal beauty dressed. PDF - Midi
2. Nature everywhere rejoices,
wakened by her Maker's breath,
and a thousand merry voices
rouse her from her transient death.
Life-blood through her veins is flowing,
o'er her face a rosy light;
trees are budding, flowers are blowing,
in the valley, on the height.
3. Tender flowers, which long retiring
in their narrow cells had lain,
peep their wistful heads, enquiring,
if the spring is come again.
Choirs of birds, and insects humming,
answer with a merry shout:
Yes, the spring indeed is coming;
come, ye little flowers, come out!
4. Nature puts away her mourning,
life is risen from the dead;
earth puts on her best adorning,
and the blue sky smiles o'erhead.
Come, my soul, with admiration,
nature's new-born wonders see;
God is breathing on creation,
and a new spring comes to thee.
Richard Massie, Lyra Domestica II, 1864, 46-47.
Translated from the German Sieh, der Winter ist vergangen - Frühlingswunder
of Carl Johann Philipp Spitta.