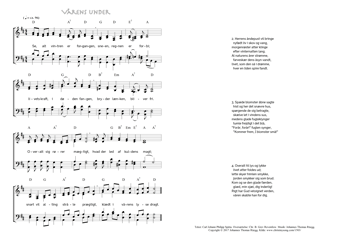 Christ My Song - 1503
Se, alt vintren er forgangen - Vårens under
(Carl Johann Philipp Spitta/Christian Benedictus Reventlow/
Johannes Thomas Rüegg)
Vårens under.
1. Se, alt vintren er forgangen,
sneen, regnen er forbi;
livets kraft, i døden fangen,
bryder lænken, bliver fri.
Overalt sig rører mægtigt,
hvad der led af kuldens magt;
snart vil alting stråle prægtigt,
klædt i vårens lyse dragt. PDF - Midi
2. Herrens åndepust vil bringe
nyfødt liv i skov og vang,
morgenrøster atter klinge
efter vinternatten lang.
Al naturens årer strømme,
farveskær dens åsyn vandt,
livet, som den så i drømme,
hver en liden spire fandt.
3. Spæde blomster åbne sagte
hist og her det snævre hus,
spørgende de sig betragte,
skælve let i vindens sus,
medens glade fugleklynger
tumle frejdigt i det blå,
"Forår, forår!" fuglen synger,
"Kommer frem, I blomster små!"
4. Overalt til lys og lykke
livet atter foldes ud;
lette skyer himlen smykke,
jorden smykker sig som brud.
Kom og se den glade færden,
glæd, min sjæl, dig inderlig!
Rigt har Gud velsignet verden,
våren skabte han for dig.
Christian Benedictus Reventlow, Spitta's Psalter og Harpe II, 1873, 55-56.
Translated from the German Sieh, der Winter ist vergangen - Frühlingswunder
of Carl Johann Philipp Spitta.