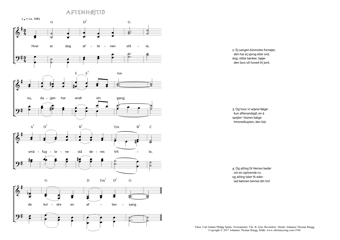 Christ My Song - 1504
Hvor er dog aftenen stille - Aftenhøjtid.
(Carl Johann Philipp Spitta/Christian Benedictus Reventlow/
Johannes Thomas Rüegg)
Aftenhøjtid.
1. Hvor er dog aftenen stille,
nu, dagen har endt sin gang;
småfuglene slå deres trille,
de kvidre en aftensang. PDF - Midi
2. Ej sangen blomsten fornøjer,
den har ej sprog eller ord;
dog, stille tænker, bøjer
den tavs sit hoved til jord.
3. Og hvor vi vejene følge:
kun aftenandagt; en å
spejler i klaren bølge
himmelkuplen, den blå.
4. Og alting til Herren beder
om en oplivende ro;
og alting taler til eder:
lad bønnen bevise din tro!
Christian Benedictus Reventlow, Spitta's Psalter og Harpe I, 1873, 100.
Translated from the German Wie ist der Abend so traulich - Abendfeier
of Carl Johann Philipp Spitta.