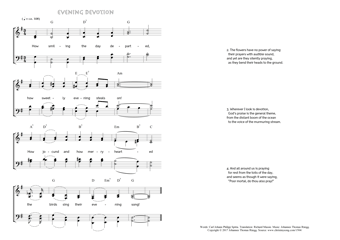 Christ My Song - 1504
How smiling the day departed - Evening devotion
(Carl Johann Philipp Spitta/Richard Massie/
Johannes Thomas Rüegg)
Evening devotion.
1. How smiling the day departed,
how sweetly evening steals on!
How jocund and how merry-hearted
the birds sing their evening song! PDF - Midi
2. The flowers have no power of saying
their prayers with audible sound,
and yet are they silently praying,
as they bend their heads to the ground.
3. Wherever I look is devotion,
God's praise is the general theme,
from the distant boom of the ocean
to the voice of the murmuring stream.
4. And all around us is praying
for rest from the toils of the day,
and seems as though it were saying,
"Poor mortal, do thou also pray!"
Richard Massie, Lyra Domestica I, 1863, 10.
Translated from the German Wie ist der Abend so traulich - Abendfeier
of Carl Johann Philipp Spitta.