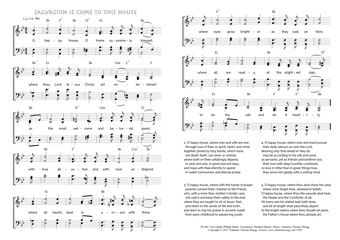 Christ My Song - 1505
O happy house, O home supremely blessed - Salvation is come to this house (Carl Johann Philipp Spitta/Richard Massie/
Johannes Thomas Rüegg)
Salvation is come to this house.
1. O happy house, O home supremely blessed,
where thou, Lord Jesus Christ, art entertained
as the most welcome and belovèd guest,
with true devotion and with love unfeigned;
where all hearts beat in unison with thine,
where eyes grow brighter as they look on thee,
where all are ready, at the slightest sign,
to do thy will and do it heartily. PDF - Midi
2. O happy house, where man and wife are one,
through love of thee, in spirit, heart, and mind,
together joined by holy bands, which none,
not death itself, can sever or unbind;
where both on thee unfailingly depend,
in weal and woe, in good and evil days,
and hope with thee eternity to spend
in sweet communion and eternal praise.
3. O happy house, where with the hands of prayer
parents commit their children to the Friend,
who, with a more than mother's tender care,
will watch and keep them safely to the end;
where they are taught to sit at Jesus' feet,
and listen to the words of life and truth,
and learn to lisp his praise in accents sweet
from early childhood to advancing youth.
4. O happy house, where man and maid pursue
their daily labours as unto the Lord,
desiring only that whate'er they do
may be according to his will and word;
as servants, yet as friends and brethren too,
their love with deep humility combined,
no less in little than in great things true,
they serve him gladly with a willing mind.
5. O happy house, where thou dost share the weal,
where none forget thee, whatsoe'er befall;
O happy house, where thou the wounds dost heal,
the Healer and the Comforter of all;
till every one his stated task hath done,
and all at length shall peacefully depart
to the bright realms where thou thyself art gone,
the Father's house where thou already art.
Richard Massie, Lyra Domestica I, 1863, 81-82.
Translated from the German O selig Haus, wo man dich aufgenommen - Diesem Hause ist Heil widerfahren
of Carl Johann Philipp Spitta.