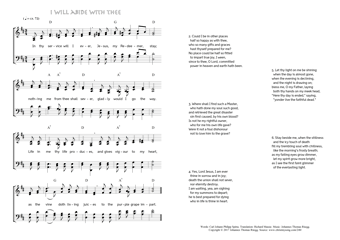 Christ My Song - 240
In thy service will I ever - I will abide with thee
(Carl Johann Philipp Spitta/Richard Massie/
Johannes Thomas Rüegg)
I will abide with thee.
1. In thy service will I ever,
Jesus, my Redeemer, stay;
nothing me from thee shall sever,
gladly would I go the way.
Life in me thy life produces,
and gives vigour to my heart,
as the vine doth living juices
to the purple grape impart. PDF - Midi
2. Could I be in other places
half so happy as with thee,
who so many gifts and graces
hast thyself prepared for me?
No place could be half so fitted
to impart true joy, I ween,
since to thee, O Lord, committed
power in heaven and earth hath been.
3. Where shall I find such a Master,
who hath done my soul such good,
and retrieved the great disaster
sin first caused, by his own blood?
Is not he my rightful owner,
who for me his own life gave?
Were it not a foul dishonour
not to love him to the grave?
4. Yes, Lord Jesus, I am ever
thine in sorrow and in joy;
death the union shall not sever,
nor eternity destroy.
I am waiting, yea, am sighing
for my summons to depart;
he is best prepared for dying
who in life is thine in heart.
5. Let thy light on me be shining
when the day is almost gone,
when the evening is declining,
and the night is drawing on;
bless me, O my Father, laying
both thy hands on my meek head,
"Here thy day is ended," saying,
"yonder live the faithful dead."
6. Stay beside me, when the stillness
and the icy touch of death
fill my trembling soul with chillness,
like the morning's frosty breath;
as my failing eyes grow dimmer,
let my spirit grow more bright,
as I see the first faint glimmer
of the everlasting light.
Richard Massie, Lyra Domestica I, 1863, 59-60.
Translated from the German Bei dir, Jesu, will ich bleiben - Ich bleibe stets bei dir
of Carl Johann Philipp Spitta.