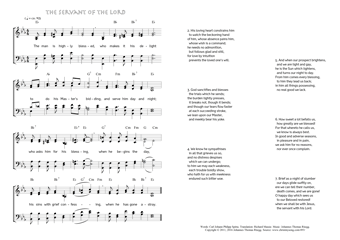 Christ My Song - 493
The man is highly blessed - The servant of the Lord
(Carl Johann Philipp Spitta/Richard Massie/
Johannes Thomas Rüegg)
The servant of the Lord.
1. The man is highly blessed,
who makes it his delight
to do his Master's bidding,
and serve him day and night;
who asks him for his blessing,
when he begins the day,
his sins with grief confessing,
when he has gone astray. PDF - Midi
2. His loving heart constrains him
to watch the beckoning hand
of him, whose absence pains him,
whose wish is a command;
he needs no admonition,
but follows glad and still,
for love by intuition
prevents the loved one's will.
3. God sanctifies and blesses
the trials which he sends;
the burden lightly presses,
it breaks not, though it bends;
and though our tears flow faster
at each succeeding stroke,
we lean upon our Master,
and meekly bear his yoke.
4. We know he sympathises
in all that grieves us so,
and no distress despises
which we can undergo;
to him we may each weakness,
each trouble boldly show,
who hath for us with meekness
endured such bitter woe.
5. And when our prospect brightens,
and we are light and gay,
he is the Sun which lightens,
and turns our night to day.
From him comes every blessing,
to him they lead us back;
in him all things possessing,
no real good we lack.
6. How sweet a lot befalls us,
how greatly are we blessed!
For that whereto he calls us,
we know is always best.
In good and adverse seasons,
in pleasure and in pain,
we ask him for no reasons,
nor ever once complain.
7. Brief as a night of slumber
our days glide swiftly on,
ere we can tell their number,
death comes, and we are gone!
O happy day which sees us
to our Beloved restored!
when we shall be with Jesus,
the servant with his Lord.
Richard Massie, Lyra Domestica I, 1863, 76-78.
Translated from the German O hochbeglückte Seele - Der Diener des Herrn
of Carl Johann Philipp Spitta.