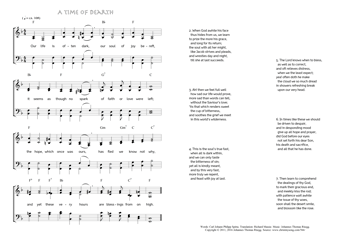 Christ My Song - 566
Our life is often dark - A time of dearth
(Carl Johann Philipp Spitta/Richard Massie/
Johannes Thomas Rüegg)
A time of dearth.
1. Our life is often dark,
our soul of joy bereft,
it seems as though no spark
of faith or love were left;
the hope, which once was ours,
has fled we know not why,
and yet these very hours
are blessings from on high. PDF - Midi
2. When God awhile his face
thus hides from us, we learn
to prize the more his grace,
and long for its return;
the soul with all her might,
like Jacob strives and pleads,
and wrestles day and night,
till she at last succeeds.
3. Ah! then we feel full well
how sad our life would prove,
more sad than words can tell,
without the Saviour's love;
'tis that which renders sweet
the cup of bitterness,
and soothes the grief we meet
in this world's wilderness.
4. This is the soul's true fast,
when all is dark within,
and we can only taste
the bitterness of sin;
yet all is kindly meant,
and by this very fast,
more truly we repent,
and feast with joy at last.
5. The Lord knows when to bless,
as well as to correct,
and oft relieves distress,
when we the least expect;
yea! often doth he make
the cloud we so much dread
in showers refreshing break
upon our very head.
6. In times like these we should
be driven to despair,
and in desponding mood
give up all hope and prayer,
did God before our eyes
not set forth his dear Son,
his death and sacrifice,
and all that he has done.
7. Then learn to comprehend
the dealings of thy God,
to mark their gracious end,
and meekly kiss the rod;
with patience wait awhile
the issue of thy woes,
soon shall the desert smile,
and blossom like the rose.
Richard Massie, Lyra Domestica I, 1863, 121-123.
Translated from the German Das Leben wird oft trübe - Die dürre Zeit
of Carl Johann Philipp Spitta.