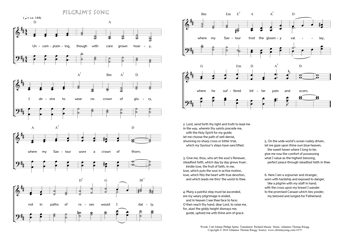 Christ My Song - 1475
Uncomplaining, though with care grown hoary - Pilgrim's song
(Carl Johann Philipp Spitta/Richard Massie/
Johannes Thomas Rüegg)
Pilgrim's song.
1. Uncomplaining, though with care grown hoary,
I desire to wear no crown of glory,
where my Saviour wore a crown of thorn;
not in paths of roses would I dally,
where my Saviour trod the gloomy valley,
where he suffered bitter pain and scorn. PDF - Midi
2. Lord, send forth thy light and truth to lead me
in the way, wherein thy saints precede me,
with the Holy Spirit for my guide;
let me choose the path of self-denial,
shunning no sharp cross or bitter trial,
which my Saviour's steps have sanctified.
3. Give me, thou, who art the soul's Renewer,
steadfast faith, which day by day grows truer;
kindle love, the fruit of faith, in me,
love, which puts the soul in active motion,
love, which fills the heart with true devotion,
and which leads me thro' the world to thee.
4. Many a painful step must be ascended,
ere my weary pilgrimage is ended,
and in heaven I see thee face to face;
O then reach thy hand, dear Lord, to raise me,
for, alas! the giddy height dismays me;
guide, uphold me with thine arm of grace.
5. On the wide world's ocean rudely driven,
let me gaze upon thine own blue heaven,
the sweet haven where I long to be;
give me now the comfort of possessing
what I value as the highest blessing,
perfect peace through steadfast faith in thee.
6. Here I am a sojourner and stranger,
worn with hardship and exposed to danger,
like a pilgrim with my staff in hand;
with the cross upon my breast I wander
to the promised Canaan which lies yonder,
my beloved and longed-for Fatherland.
Richard Massie, Lyra Domestica I, 1863, 128-129.
Translated from the German In der Angst der Welt will ich nicht klagen - Pilgerlied
of Carl Johann Philipp Spitta.