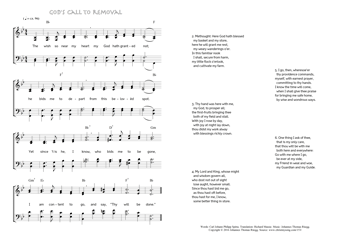 Christ My Song - 153
The wish so near my heart - God's call to removal
(Carl Johann Philipp Spitta/Richard Massie/
Johannes Thomas Rüegg)
God's call to removal.
1. The wish so near my heart
my God hath granted not;
he bids me to depart
from this belovèd spot.
Yet since 't is he, I know,
who bids me to be gone,
I am content to go,
and say, "Thy will be done." PDF - Midi
2. Methought: Here God hath blessed
my basket and my store,
here he will grant me rest,
my weary wanderings o'er.
In this familiar nook
I shall, secure from harm,
my little flock o'erlook,
and cultivate my farm.
3. Thy hand was here with me,
my God, to prosper all;
the first-fruits bringing thee
both of my field and stall.
With joy I rose by day,
with joy at night lay down,
thou didst my work alway
with blessings richly crown.
4. My Lord and King, whose might
and wisdom govern all,
who dost not out of sight
lose aught, however small.
Since thou hast bid me go,
as thou hast oft before,
thou hast for me, I know,
some better thing in store.
5. I go, then, wheresoe'er
thy providence commands,
myself, with earnest prayer,
committing to thy hands.
I know the time will come,
when I shall give thee praise
for bringing me safe home,
by wise and wondrous ways.
6. One thing I ask of thee,
that is my only care,
that thou wilt be with me
both here and everywhere:
Go with me where I go,
be ever at my side,
my Friend in weal and woe,
my Guardian and my Guide.
Richard Massie, Lyra Domestica II, 1864, 37-38.
Translated from the German Mein Gott, was ich gewünscht - Gottesruf zum Weiterziehen
of Carl Johann Philipp Spitta.