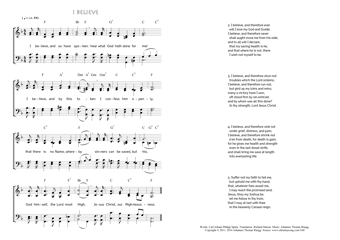 Christ My Song - 160
I believe, and so have spoken - I believe
(Carl Johann Philipp Spitta/Richard Massie/
Johannes Thomas Rüegg)
I believe.
1. I believe, and so have spoken:
hear what God hath done for me!
I believe, and by this token
I confess him openly,
that there is no Name, whereby
sinners can be saved, but his,
God himself, the Lord most High,
Jesus Christ, our Righteousness. PDF - Midi
2. I believe, and therefore ever
will I love my God and Guide;
I believe, and therefore never
shall aught move me from his side;
and to all will I declare,
that my saving health is he,
and that where he is not, there
I wish not myself to be.
3. I believe, and therefore shun not
troubles which the Lord ordains;
I believe, and therefore run not,
but gird up my loins and reins;
many a victory have I won,
oft stood firm by sin enticed:
and by whom was all this done?
In thy strength, Lord Jesus Christ.
4. I believe, and therefore sink not
under grief, distress, and pain;
I believe, and therefore shrink not
e'en from death, for death is gain;
for he gives me health and strength
even in the last dread strife,
and shall bring me save at length
into everlasting life.
5. Suffer not my faith to fail me,
but uphold me with thy hand,
that, whatever foes assail me,
I may reach the promised land.
Jesus, thou my Joshua be,
let me follow in thy train,
that I may at last with thee
in the heavenly Canaan reign.
Richard Massie, Lyra Domestica I, 1863, 55-56.
Translated from the German Ich glaube, darum rede ich - Ich glaube
of Carl Johann Philipp Spitta.